This manual has been written as a guide for Informetica Site Managers (account type 2). It covers the aspects of the system unique to Site Manager access. Site Managers are alotted all permissions, access to all system tools, and the LMS support team. Site Manager capabilities include:
Adjusting system settings
Bundling courses
Updating system labels
Creating campuses
Defining certification rules
Managing report access
Viewing system announcements
Setting password criteria
Viewing license details
Running reports
Navigation and general desktop experience can be found in the Participant User Manual.
Managing grades and scheduled courses can be found in the Instructor User Manual.
Managing registration, accounts, and user groups can be found in the Manager Manual.
Running reports can be found in the Reports Manual.
Course creation and file/content management can be found in the Course Author User Manual (coming soon).
In addition to this manual, Site Managers have other resources available to them within the LMS. These materials contains various help tools for using the learning management system such as user manuals and other helpful documents.
Log in with a Site Manager account.
Select Resources under the Support in the main navigation menu.

Select the name of any item to open that resource. There are four types of resources available:

Manuals: These links open detailed user manuals for each user type, reports, and eCommerce Storefront.
User Roles and Permissions Chart: This link provides the system privileges available to the different user types.
Quick Start Guides: These are one-page documents that provide guidance on the features and functionality of specific modules and/or processes.
Advanced Techniques: These one-page, visual job aids provide guidance on more advanced and/or technical features within the system.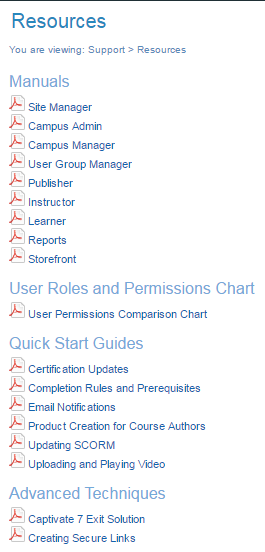 This manual may reference features not configured for your system or features may be named differently due to site customizations. Informetica is under constant development and some differences between the live application and this manual may occur.