Some systems will have the option to toggle from a Basic to an Advanced Search. Search highlights the term you entered to assist in identifying your results.
Select Search from the top of the page.
Enter a term to find any course or other learning materials you are enroled to.
Select a search result. The search results are links that to go directly to the item.
An example of Basic Search.


---
Advanced Search
Advanced Search includes filters to help you narrow down the results.
Select one or more filters from the Add Filters list.
Enter or select criteria for each filter that you selected.
Use the x next to an added filter to remove it.
Select the

Search

button.
Select

Reset

to clear all filters.
An example of advanced search using four of the available filters.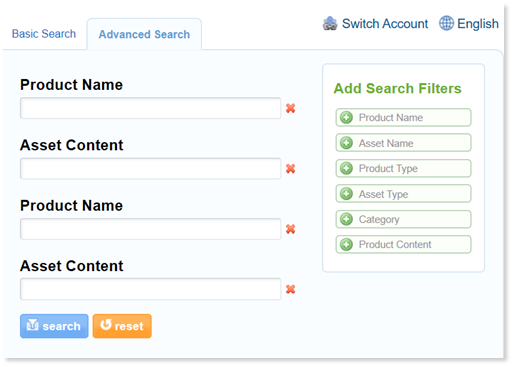 Advanced search filters include:
Product Name
Product Introduction
Product Type (drop-down listing types)
Asset Name
Asset Content
Asset Type
Date Created Date Range (Not Visible to Participant Account Types)
Date Edited Date Range
Last Accessed Date Range (Not Visible to Participant Account Types or Site Manager Account Types)