Some or all of these features may not be in use for your system. Features may also be named differently, but the functionality will be the same.
After you log in, you will see your home page where you can access all areas of the system: launch your assigned courses, change your password, log out, select your language and view events, news and tasks.
An example of a home page that illustrates the various navigation tools available to you.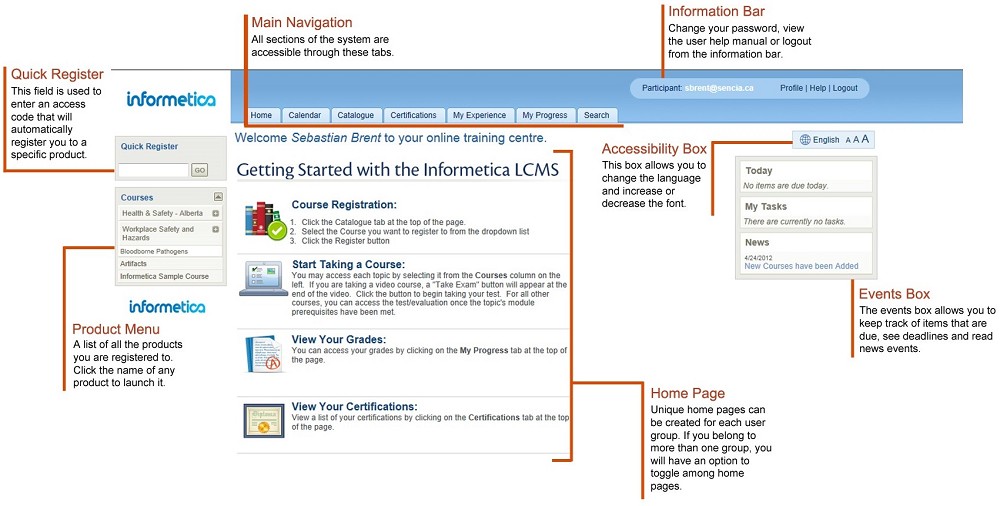 The information bar displays your user login status and can contain links to the following functions:


Select Profile to update your account information and password.
Select Help to open a copy of this manual.
Select Logout instead of simply closing the browser window to ensure that any changes you have made will be saved and that your session will be properly recorded.
The accessibility bar lets you change the language and the size of the font on the page.


To change the language you view the page in, select the globe icon. Note that multiple languages may not be available for your system.
To change the font size, select AAA link. The leftmost a is the smallest font and the rightmost A is the largest font.
Page Link: If your system is configured for this option, then you can create a direct URL link to any system page to send to other individuals. Individuals who click the link will be prompted to login and then will either be directed to the destination page or will see a message that they do not have access to the destination page.